Production Portal Features
Performance
Monitoring of the work flows of the employees and order processes.
PDF Analyse
Automatic analysis of PDF files by small format and large format area.
Communication
Better communication between employees and departments
through order notes.
Work Sharing
Performance of employees can be done by following who is responsible
for which order.
Filters
Well-Designed Search UI and rich filtering capabilities
Template Sentences
Frequently used notes can be saved as a template for
easy for later use.
Mini CRM
Integrated mini CRM system for customers.
1 Click
Sending and confirming offers with just one click via e-mail.
Process
Staff can easily configure the orders under their own responsibility.
Notifications
Employees can easily informed about new orders by notifications.
Queues
Switch production between queues (departments)
Tags
Recognize important features with tag symbols without reading text.
---
EPP automates
ZIP extractionsnotifies customersprint approvals
and more...
Production Panel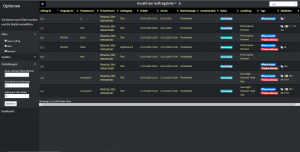 – Live workflow display.
– Each employee can configure their own board.
– All data are ready on one screen and are updated automatically.
– Filter options allow only relevant data to be viewed.
– With 1 click to see the order details.