New Generation Print Works !
Massive, with tons of features. Run your entire print operations using the EPP System alone. Turn your website into an online printing shop.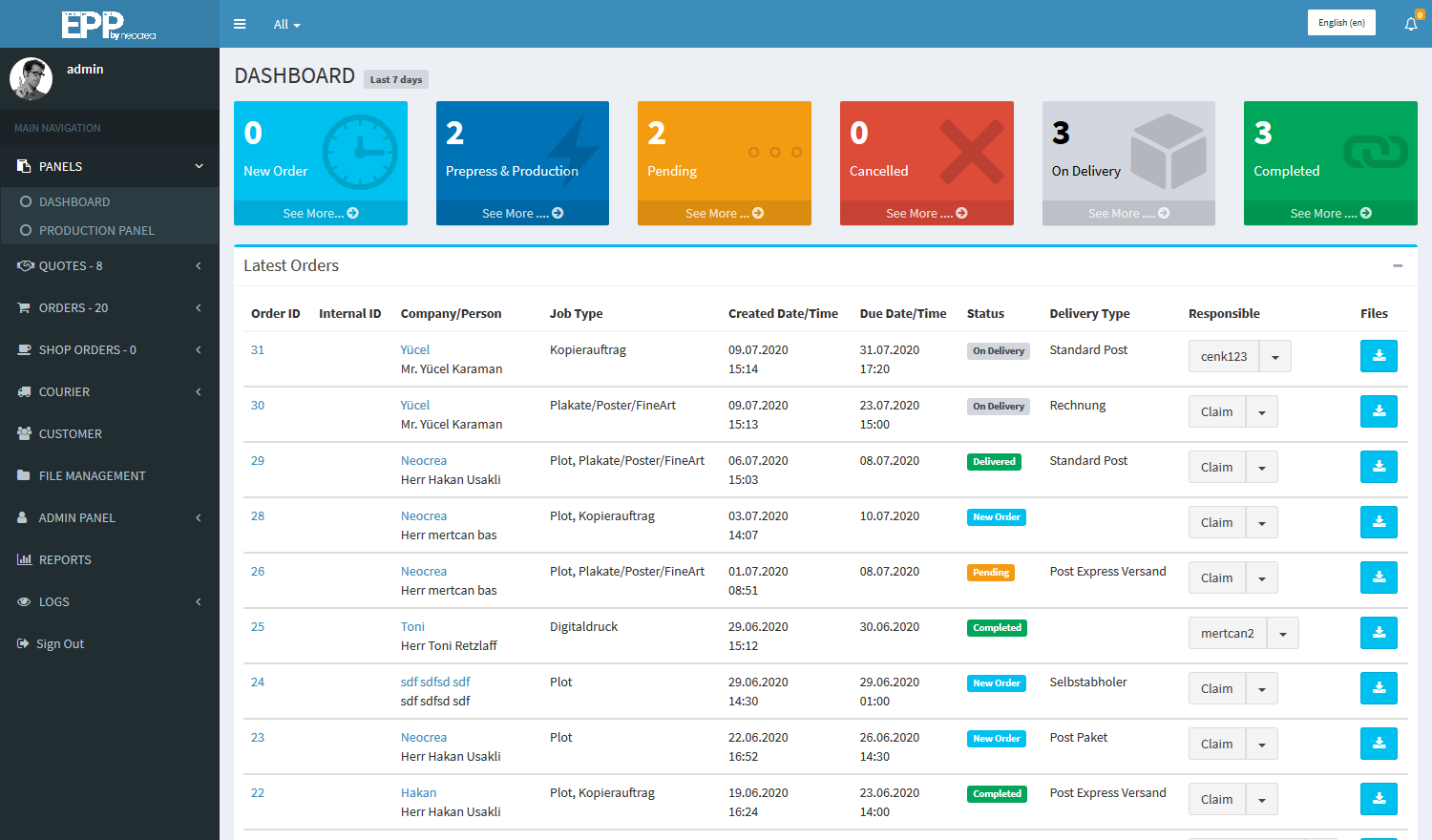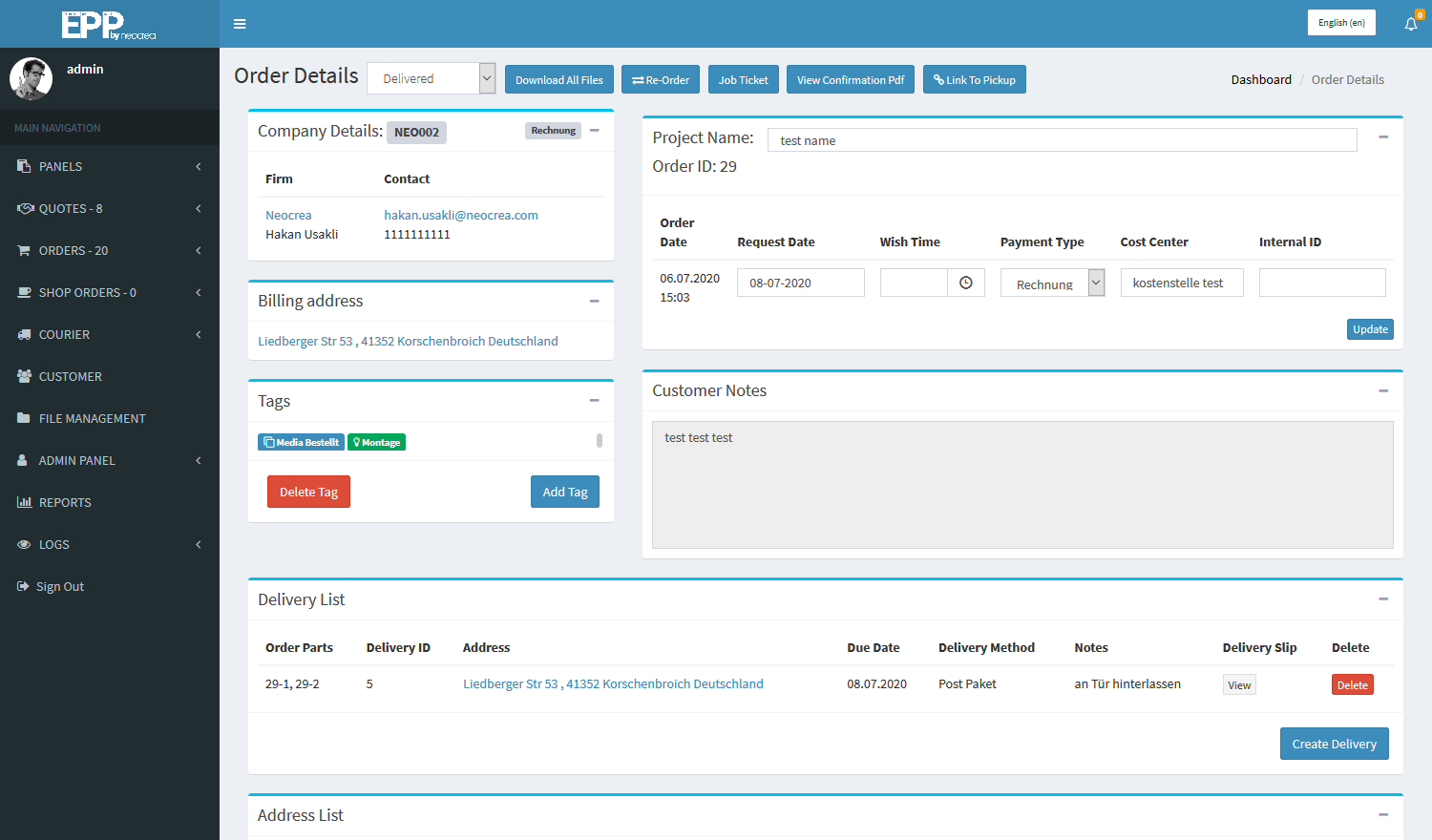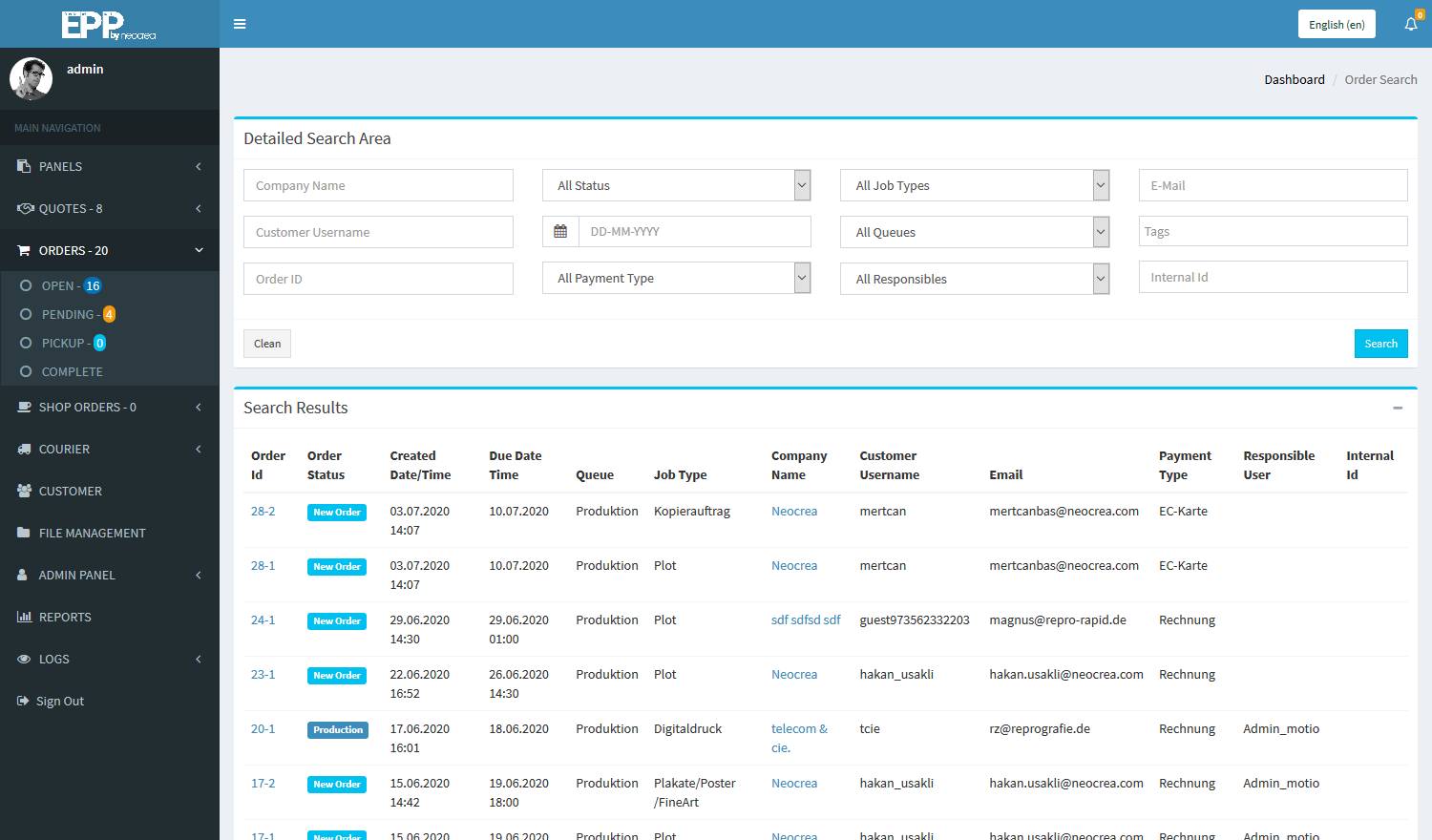 EPP is Incredibly Powerful and Easy-to-Use
Everything you need for your business with lots of unique features ! Turn Your Website Into An Online Print Shop !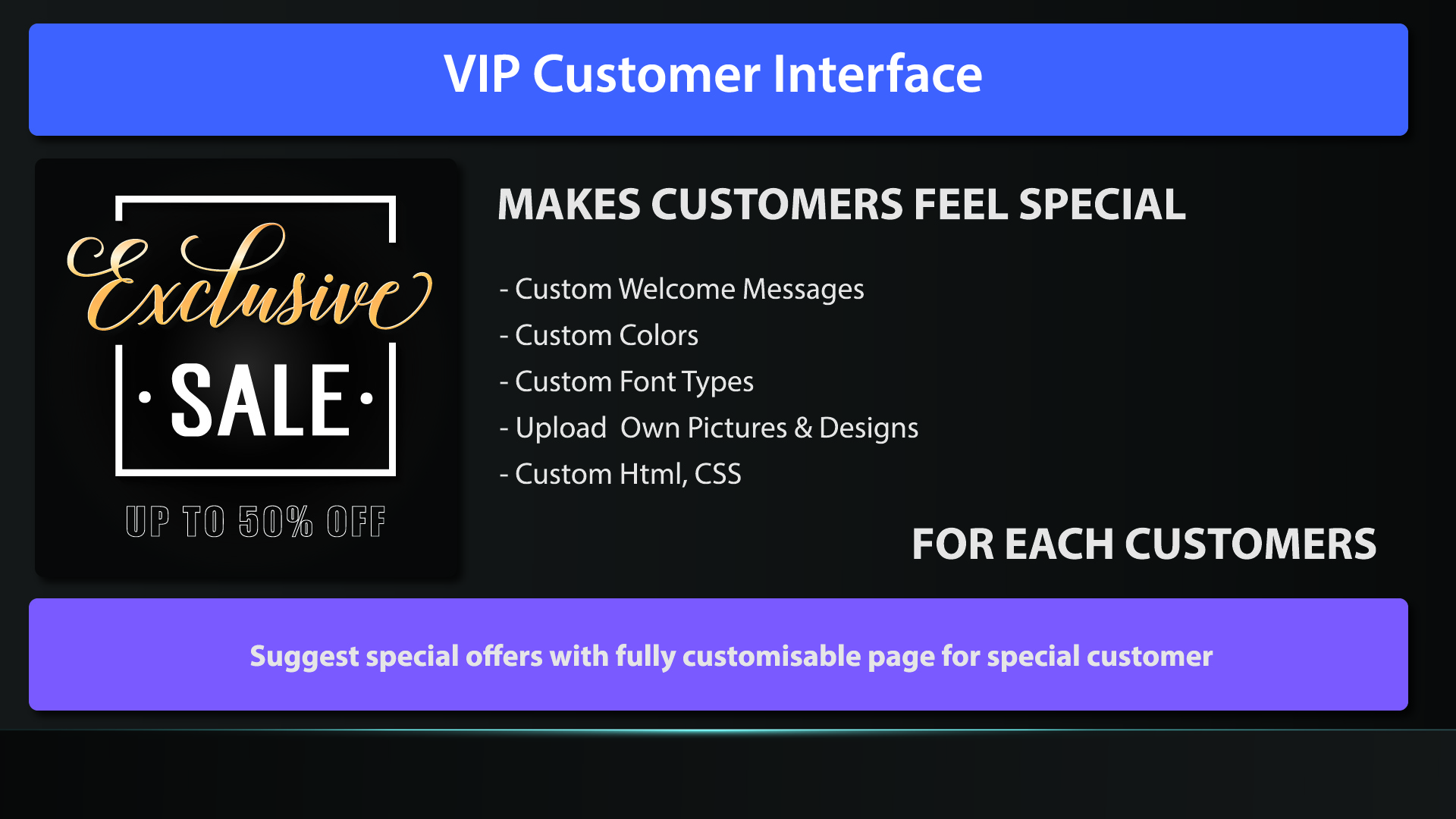 Makes Customers Feel Special
Suggest special offers with fully customisable page for special customer.
-Custom Welcome Messages
-Custom Colors
-Custom Font Types
-Upload Own Pictures & Designs
-Custom Htlm, CSS
-Custom Special Offers
Drag n' Drop Features
Simple and useful interface provides easy-to-use
Easily upload design files with drag and drop. Multiple orders at the same time. Customers can give order as a guest.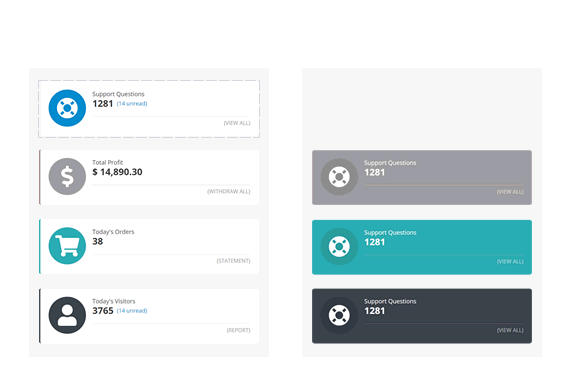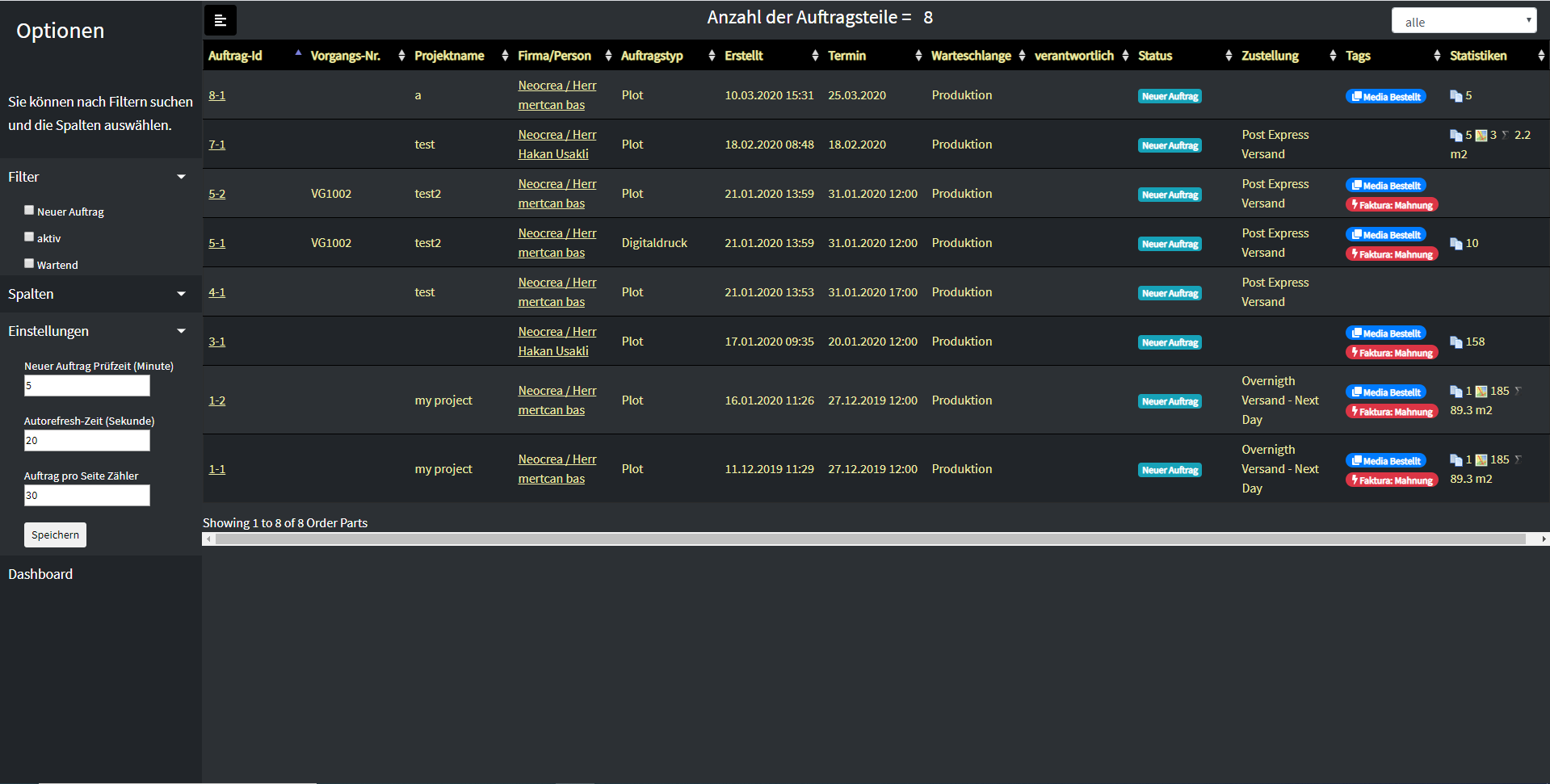 Production Panel
Control the work flows of the staff instantly and retrospectively
Track the status of orders and offers, at what stage, and through which applications
Control your Business like a Pro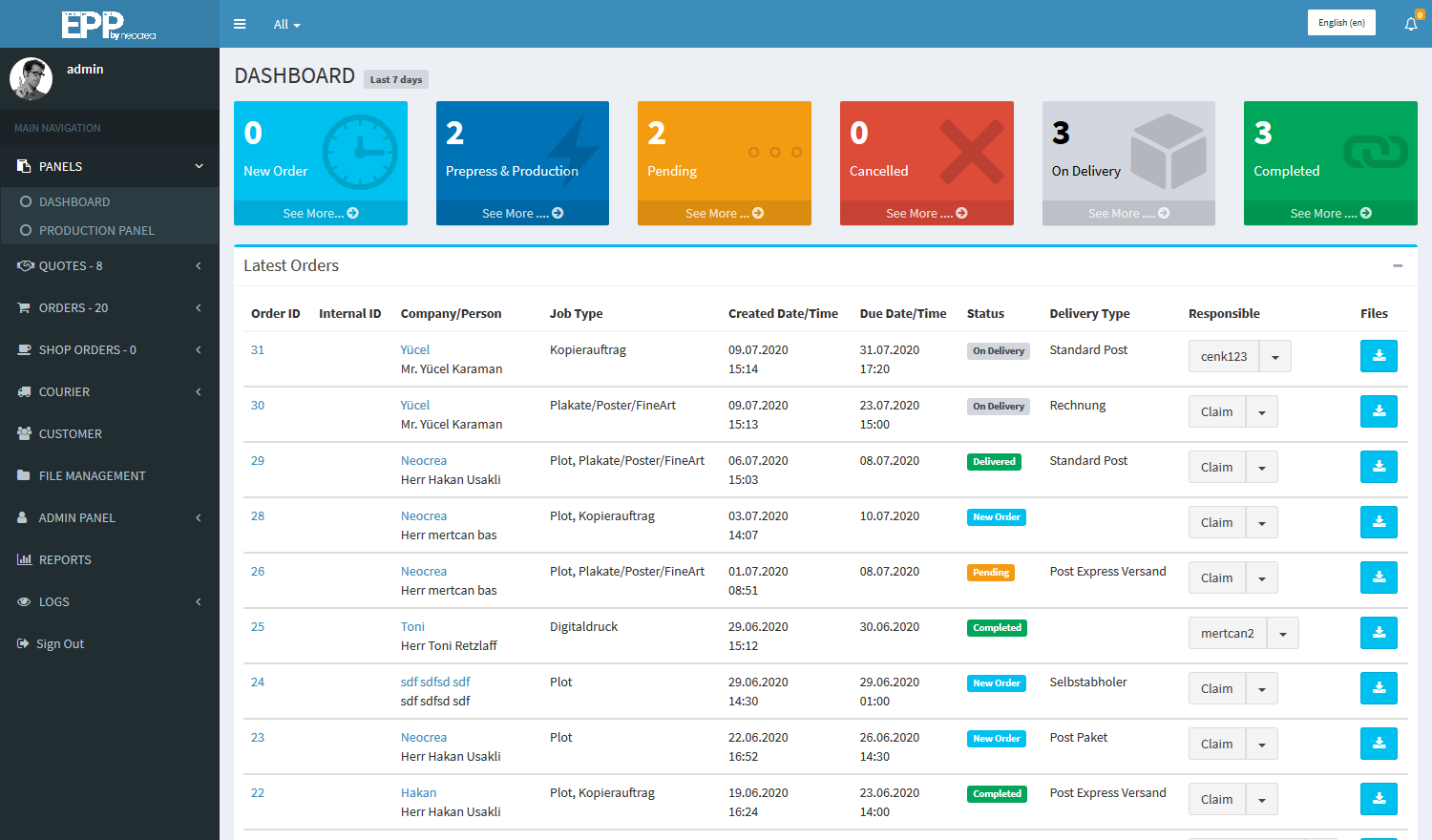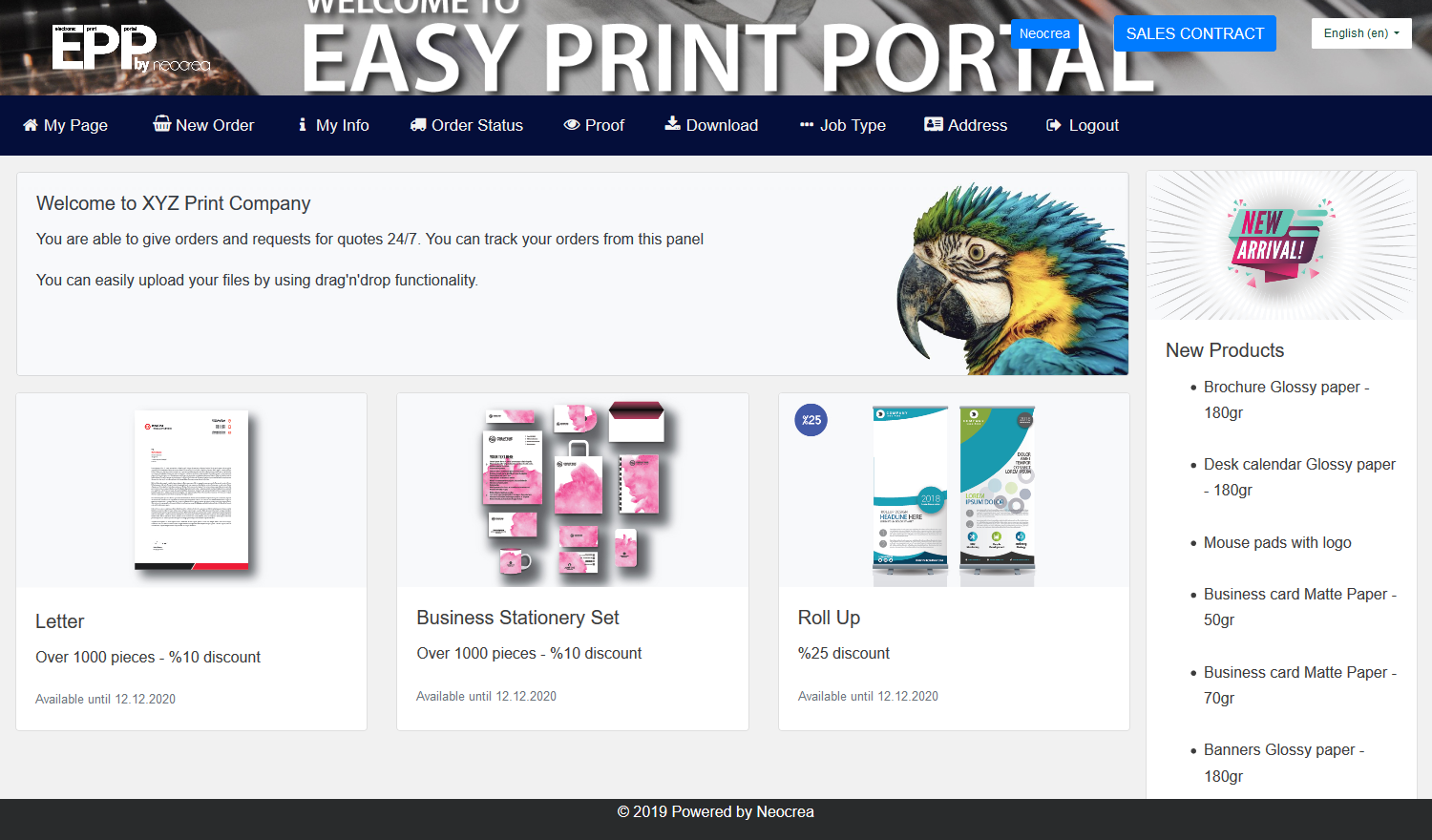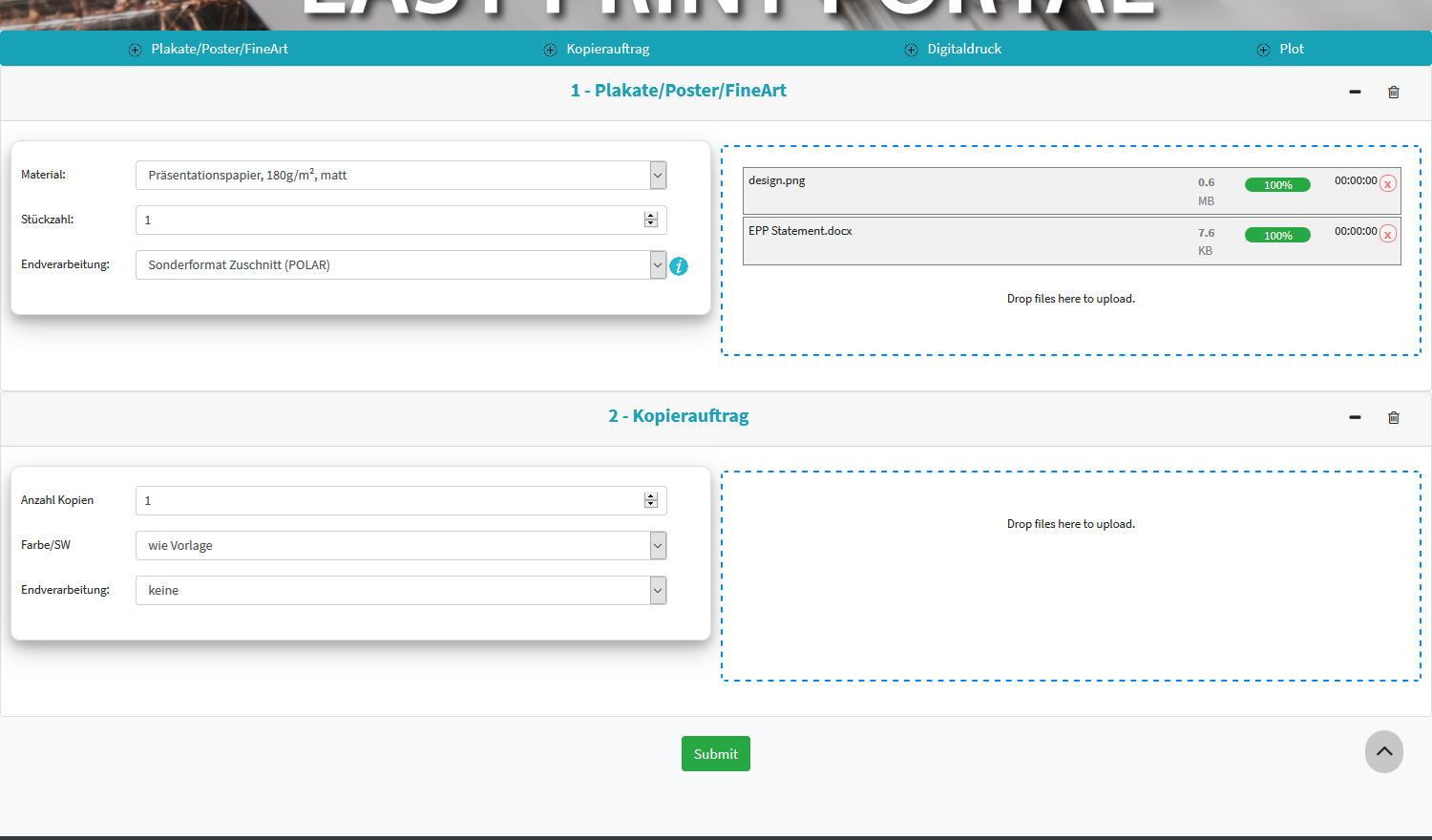 Der Einsatz von EPP hat die Kommunikation mit unseren Kunden und intern

unter den Mitarbeitern auf eine Ebene gehoben, die bis vor kurzem noch undenkbar war.

Wir erreichen jetzt eine deutlich höhere Effizienz bei der Auftragsabwicklung als vor der Einführung von EPP.

Jeder Mitarbeiter hat jederzeit seine speziellen Aufträge im Blick. Vom Auftragseingang bis zur Zustellung.

Die Zuständigkeiten sind jetzt genau geregelt und es gibt keine unklaren Verteilungen mehr.

Früher gab es oft auch Rückfragen durch ungenaue Auftragserteilung.
Diese werden durch die frei skalierbaren und klar definierten Auftragsformulare vermieden.

Dabei ist jeder Betrieb völlig frei in der Benennung der Artikel und Auswahlfelder.

Unsere Kunden haben sich schnell an die Vorteile von EPP gewöhnt und nutzen die

Plattform inzwischen alle. Wir bekommen manchmal Aufträge mit mehreren hundert Megabyte Daten. Das ist jetzt mühelos möglich. Es kommt auch nicht selten vor das wir

unseren Kunden mehrere Gigabyte Daten von Ihren Scan Aufträgen schicken müssen,

auch das ist ohne Probleme möglich.
Auch das Frontend bringt für den Kunden eine enorme Arbeitserleichterung, er kann seine Auftragsstati einsehen, Rechnungs- und Lieferadressen verwalten, Scandaten abrufen und vieles mehr.

Das schafft zusätzlich eine enorme Kundenbindung.

Vor dem Einsatz von EPP hatten wir mehrerer Insellösungen für die einzelnen Bereiche,

das ist jetzt alles übersichtlich in einer Plattform vereint.

Ein weiterer Vorteil von EPP ist die Anpassungsfähigkeit an die jeweilige Betriebsgröße

und Struktur. So kann EPP sowohl in einem kleinen Betrieb mit einem Standort, als auch in einem Betrieb mit hunderten Mitarbeitern und einer vielzahl an Filialen und Abteilungen eingesetzt werden.
Eine integrierte Rechteverwaltung macht es möglich.

Wir können aus unserer Sicht EPP nur weiterempfehlen. Es schafft Ordnung und Struktur

in der Auftragsabwicklung und nimmt unseren Mitarbeitern die Organisation der Aufträge ab.

So kann sich jeder auf die wesentlichen Aufgaben konzentrieren.

Auch die Zusammenarbeit mit Neocrea ist besonders hervor zu heben.

Das Team entwickelt EPP ständig weiter und wir sind als Kunden nicht nur Konsument eines Produktes, sondern auch ein Teil der Entwicklung.

Hinweise zur Verbesserung werden hier dankbar aufgenommen und nicht ignoriert.
Pricing
Contact us to take advantage of small business support packages with 1-5 employees.
*Please ask for a discount for go4copy.net-Partner and motio-Member
24-MONTH PAYMENT PLANMost Popular

€

450
Whole EPP features
Save %28
Total : € 15,000 € 10,800
Choose Plan
Let our expert team help you as soon as possible!
12-MONTH PAYMENT PLAN

€

850
Whole EPP features
Save %32
Total : € 15,000 € 10,200
Choose Plan
Let our expert team help you as soon as possible!
ONE TIME PAYMENT PLAN

€

9,900
One Time – No monthly payment
Whole EPP features
Save %34
Total : € 15,000 € 9,900
Choose Plan
Let our expert team help you as soon as possible!
Frequent Asked Questions
Can't you find answers? Mail us !
What is EPP?
neocrea
Software that manages the Web-to-Print process which starts with the customer requesting a quote or placing an order, continues with production, and ends with delivery. There is an integrated courier interface for mobile devices for shipment and pickup tracking. All the functions needed are accessible in one web interface. The range of functions is unique and much larger than other web-to-print software.
0
%
Percent of happy users using EPP
Request For Free Demo!
Schedule your online presentation and demo now.